UCSD CSE 11 Fall 2021
Asking Questions and Getting Help
There are 25 staff members (instructor, TAs, and tutors) to help with your learning, and a few different ways to get in touch and ask for help.
Quick links:
Message Board Questions
You can post questions on our Piazza message board at any time: piazza.com/ucsd/fall2021/cse11_fa21/home
The message board is a good place for questions about something that was confusing in class, in videos, in the book, or generally about course content. It's not always the best place for help with programming details on your assignments (remote or in-person lab hours are better for that). If you do post for help with a programming assignment, we ask that you use good judgment in how much code you share – sharing too much as part of your question could harm others' learning if they aren't expecting to see parts of a solution.
Feel free to engage with your classmates and help answer their questions. Always be polite and assume the best intentions. Always assume that the person you're talking to is asking an honest question, and don't assume they "should know" something; if they seem to not know something from the course, reminding them with a link to where it was taught can be useful (instead of saying something like "that was already covered"). Try to guide your classmates to useful conclusions on their own rather than solving their problems for them. Using emoji can always help with a positive and friendly vibe 🙂
During the times where we have take-home programming exams, Piazza will not allow posting public to the class.
Meeting with Staff
There are two main reasons to come see the staff in CSE11.
You need help on an assignment, reviewing past work, or understanding something from the course material.
An assignment requires or allows you to see a staff member to review your work after you make a submission.
There are two ways to get general help, remotely or in the labs. Checking off assignment work can be done either remotely over Zoom or in-person during student help hours.
Remote Help
To get help remotely, you can join this Zoom room: https://ucsd.zoom.us/j/95758500952
Once in the waiting room, also create a ticket on https://autograder.ucsd.edu and use either the "Remote Help" or "Remote Check-off" tag when you create the ticket. (If you don't make the ticket, we'll still try to get to you, but it will probably take a little longer unless there's no one in the queue.)
A staff member will admit you in queue order and join you in a one-on-one breakout room.
Depending on how many students are present, it may take a few minutes for the staff member to admit the next student, so please be patient!
If you see "waiting for the host to start the meeting" it means that no one is on right now. Check the calendar below (also on the calendar page) to make sure there are lab hours currently and message us on Piazza if someone is supposed to be there and no one is there.
In-person Help
To get help in-person, you can file a ticket on https://autograder.ucsd.edu from the labs in the CSE building.
The labs are on the lowest level of the building; the hallway outside the labs looks like this: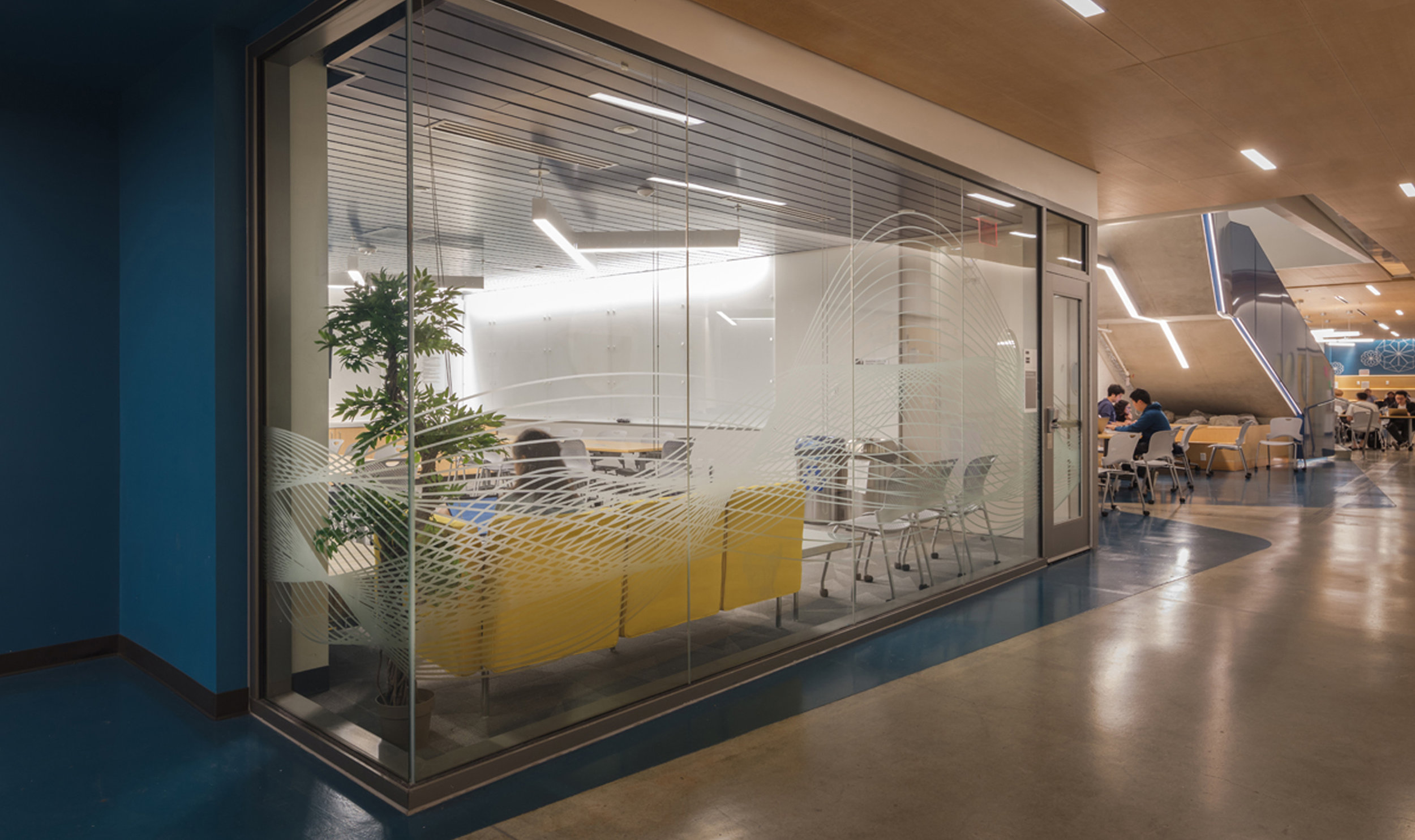 Use a seat in lab B260 if it is available, that's where our staff will be centered. You will get updates in autograder about your ticket once you file it. Check on this calendar for availability (also available on the general calendar page):
You don't have to go to the labs just for help – you're also welcome just to go there to work any time!
Instructor Office Hours
"Office hours" should maybe be called "student hours" – they are times where we are available in our office (physically or virtually) for you. You can come to instructor office hours with any kind of questions about the course, or even about the next course, or about catching up if you feel you've fallen behind, or something you wanted to know more about from lecture, and more. You can also ask us programming questions in office hours, just like you would in help hours with the tutors. In order to focus our time on student questions, instructors won't check off work during instructor office hours; you have to go to the designated remote hours for those.
FAQs
Do I have to participate if I'm on the waitlist?
Yes, you're responsible for everything as if you're a normally-enrolled student while you're on the waitlist, including any submission deadlines, and your work will be graded as usual.
I have a question about enrollments and the waitlist.
Please contact CSE student affairs, who can give the best advice and information about the enrollment process. They are friendly and helpful and know much more about timing and any updates you will see through the registration system.
There is some useful advice at Enrolling in CSE Courses that likely summarizes a lot of what they would tell you to get you started.
Will the course be in-person or remote? Is attendance required?
This policy is subject to change given the uncertainty of university, local, national, and global policy.
There are several options for attending lectures and getting participation credit in this course. All of them require synchronous participation and discussion with your classmates. Both in-person and remote options are available. By synchronous we mean that you need to be available during the scheduled time.
The content of the course is primarily delivered through an online textbook and through pre-recorded videos from the instructors. The synchronous sessions are for problem-solving with your classmates and Q&A with the instructional team. In each session, you will work in pairs or small groups on problems that we provide and we will go over them as a group.
In-person sessions will be led during the normally-scheduled lecture times in the normally-scheduled rooms, led by the instructors. These sessions will be recorded but will not be available remotely while they are ongoing.
Remote sessions include all of the normally scheduled discussion sections for the course, which are on the same days as in-person lectures, and at a variety of times.
For credit you must attend a section on each day (Monday, Wednesday, and Friday), but you can attend any section or different sections across the days, with some small number of allowed absences.
As an exception to the class being synchronous, the final exam will have an asynchronous format. Students will not be required to take the final exam during the scheduled block, and there will be some flexibility on when it is completed the day of the exam (but not necessarily flexibility to take it on other days).
What's the course material like?
You can see a previous version of the course, which will give you a sense. This offering will not be identical, but will be similar.
There is no required textbook for you to purchase for the course. The course uses a combination of online resources and notes from the instructors.
I'm not sure if I should take CSE11 or CSE8A.
We endorse the CSE course placement advice. Also feel free to message jpolitz@eng.ucsd.edu if you're not sure.
Can I audit the course?
You can use all the public resources on this website, and if you're a UCSD community member, you can view all the podcasts for the problem sessions at https://podcast.ucsd.edu/. Beyond that we don't have any formalized support for auditing the course.
What if I have enrolled in CSE11 but won't be able to be in La Jolla for most or all of Fall 2021?
If the attendance policy above doesn't address your situation, please contact jpolitz@eng.ucsd.edu.
Do we need a clicker for this class?
No, we will use other ways (like paper handouts or Google Forms) to keep track of participation in class.
Where are the icons from?
Icons made by Freepik from www.flaticon.com.